The Definitive Guide to API Management
Your Digital Acceleration Begins With Apigee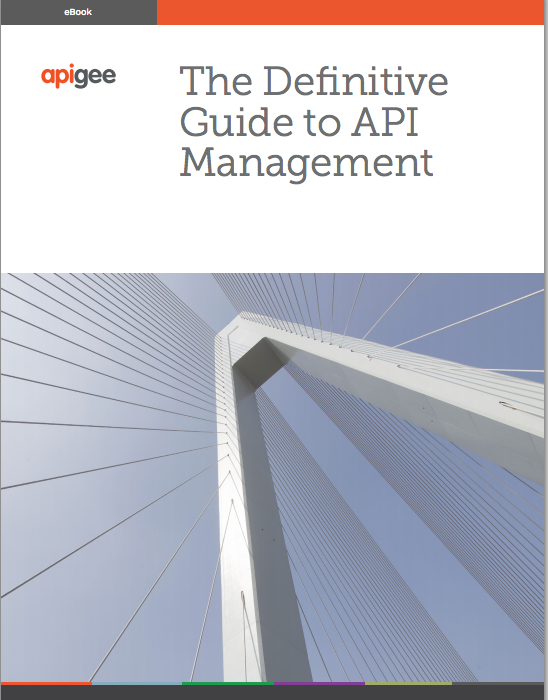 APIs are the glue that connect apps. Behind every mobile app, smart device, and connected experience there is at least one API enabling software application to exchange data, and interact with other applications. To deliver the right experience, at the right time, on the right device, your API program must scale to support billions of users, with simultaneous access to mission-critical applications. You can now build and deliver apps at the speed expected by customers, employees, and partners, without compromising the stability, and reliability of back-end systems – with Apigee.
Apigee's intelligent API management platform empowers companies to provide seamless, connected digital experiences. Enabling businesses to accelerate the pace at which they innovate, Apigee helps share data and services, and adapts to rapidly changing customer and market needs.
Besides combining the best of enterprise and internet technologies with API management, BaaS, security, and programming extensibility to provide rock-solid reliability, and enterprise-grade flexibility, Apigee Edge also:
enables new data services such as social graphs, geo-location, and push notifications
creates two-dimensional drill downs into API traffic data for a more granular understanding
monitors app usage by app versions, platforms, device models, and OS versions
supports a variety of business models from freemium to revenue share pre, and post-paid billing
Apigee Edge takes the pressure off IT by providing a unified solution that minimizes the risk, and time-to-value, by eliminating the need to integrate disparate point solutions.
To learn more about what makes a sophisticated API Management software, download the "Definitive Guide to API Management."