Apigee Named a Leader in Full Life Cycle API Management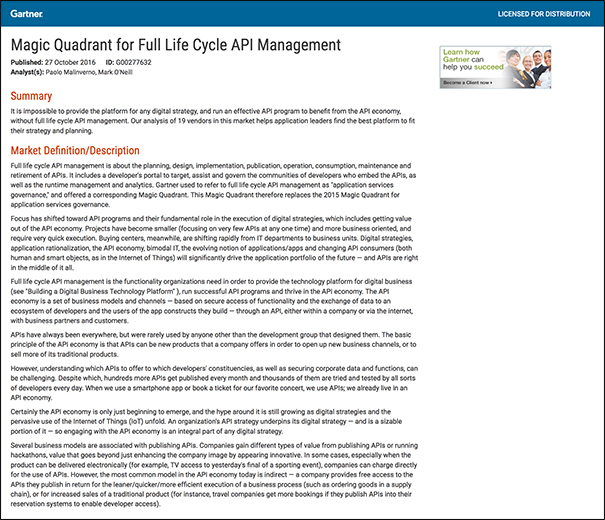 Businesses need to keep pace with new technologies and the changing nature of projects in today's interconnected world. Apigee provides an intelligent API platform that helps companies to offer a connected digital experience to its customers and partners. Apigee helps businesses accelerate innovation, share data, services, and adapt to changing customer and market needs through a secure platform for APIs and analytics.
This Gartner Magic Quadrant evaluated 19 different software vendors wherein, Apigee was positioned in the leaders quadrant based on its "ability to execute" and "completeness of vision."
According to the Gartner Magic Quadrant report, "It is impossible to provide the platform for any digital strategy, and run an effective API program to benefit from the API economy, without full life cycle API management."*
Many of the world's largest organizations use Apigee to enable their digital business. Apigee customers include global enterprises such as Walgreens, eBay, Burberry, Shell, Live Nation, and First Data. See why Gartner named Apigee a Leader by reading Gartner report today.
* Gartner "Magic Quadrant for Full Life Cycle API Management" by Paolo Malinverno, Mark O'Neill 27 October 2016.